Welcome!

Welcome to SAP Promo - provided by An Opportunity Knocks!

Proudly working with SAP since 1999.

As communicated previously, the Communications team no longer keeps quantities of stock on-site. Merchandise for go-lives, customer visits or other giveaways must be planned in advance and ordered directly through An Opportunity Knocks (AOK) to ensure merchandise availability and shipping to meet your deadlines. Also note that any purchases must be charged to the employee's cost center as part of the cost of sale.

Who is AOK?

An Opportunity Knocks (AOK) has been SAP Canada's preferred promotional products vendor for over a decade. AOK is a promotional products specialist with warehousing / distribution facilities in Mississauga ON and Honey Brook PA, and we are recognized as one of North America's leaders in promotional marketing. We specialize in getting SAP noticed and remembered through unique branded promotional products.

Our team at AOK is here to assist you. If you want something with the SAP logo on it, we're your first call. Your main contact is Dave Burnett, and he can be reached at 1-888-566-2577 x 222, or via email at db@aokmg.com.

Your quote requests and inquiries will be handled promptly and effectively. With over 12 years of experience working with the SAP brand (and all it's colors), we know the demands that SAPPHIRE, FKOM, DKOM and all the other events can put on you. We understand your unique challenges of leaving a great impression during meetings and sales calls! We have low minimums and will work within your budget, delivery time frame and distribution restrictions and will help you make your event a success.

How it Works:

To order promotional products from us, you must submit a cart in your internal system and attach our quote to your cart and submit it for internal approval and Purchase Order (PO) generation. We are not able to proceed until we receive this PO from purchasing.

No Charge Rush

Need something in a rush? No problem! We have over 3000 rush products available that are guaranteed to ship the next day. From USB drives to portfolios, travel items to pens, we've got you covered. Just click on our "CLEARANCE AND SPECIALS" link above and go to our quick turnaround site SwiftPromo.com.

Get in touch with us today! Let us know how we can help!

Contact us:

CANADA Richview Square | 250 Wincott Drive, P.O. Box 18535 | Toronto, Ontario, Canada M9R 4C8
AMERICA 350 5th Ave, Suite 7412 | New York, NY USA 10118-7412
TOLL FREE 1.888.566.2577
Featured Item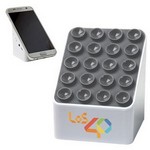 Angle 3 Watt Bluetooth Speaker
Easy to connect using Bluetooth V2.1 EDR Features built-in suction cups that can grip small electronic devices 3 Watt Bluetooth speaker Includes a micro/USB cable, audio cable and user manual Perfect ...